The Abundance Garden Course is a new high performance gardening system that will teach anyone how to grow nutrient dense organic food in a compact, easy and fun garden. This course can change the way you garden forever. Anyone, even people with no gardening experience can learn to grow nutrient dense food in their first year. We take the "hard" out of gardening. In just 15 minutes a day in 128 square feet will produce more than you can imagine, making gardening fun and productive for everyone.
The Abundance Garden demonstration garden has produced 743 pounds of beautiful organic produce worth $2500 in only 128 sq. ft. All of these results were produced with only 15 minutes spent in the garden a day and virtually no weeds; we can teach you how to do the same. It took me decades to teach myself how to grow in a high performance garden. Alone, without the education, with hit or miss results it could take you that long and longer. It takes time because it takes a season to evaluate if your changes were effective. The Abundance Garden Course has all of the support and education you need to learn a high performance gardening system in one season. This course eliminates the guess work and you can have results this year! The Abundance Garden Course is a unique online course that takes you step by step through the high performance system. My goal with this course is to support you every step of the way so you can become a high performance gardener this gardening season. If you follow the steps and participate as an active listener you will benefit from this course and learn what it will take to create your own abundance garden. When you enroll in the Abundance Garden Course you will receive everything you need to create a successful garden this season. The first part of the course is the Gardening System Basics. This is an online 10 module course. The 10 Gardening System Basics will teach you everything you need to know to start your high performance garden.
Module 1: It Starts with Soil
Soil is the key to the easiest garden you will ever grow in. I share our secret family soil mix. This soil mix will eliminate most of the garden work and make your garden thrive. This module includes the added bonus of two support documents: Secret Soil Mix and How to Get Quality Compost.
Module 2: Soil Biology
Understanding soil biology is the key to unlocking Mother Nature's secrets to growing perfect healthy plants. I use her secrets everyday to grow all the food we produce. You will learn how you can enhance or destroy mother nature's system for growing plants.
Module 3: Intensive Raised Beds
Intensive raised beds are the key to growing as twice the amount of food in ½ the space. I grow an amazing amount of food in very little space with the intensive grow beds. These beds are easy to create and will really reduce the amount of time, weeding, water and fertilizers that you will need to grow your food. This is one of the key components of this gardening system and why it works so well.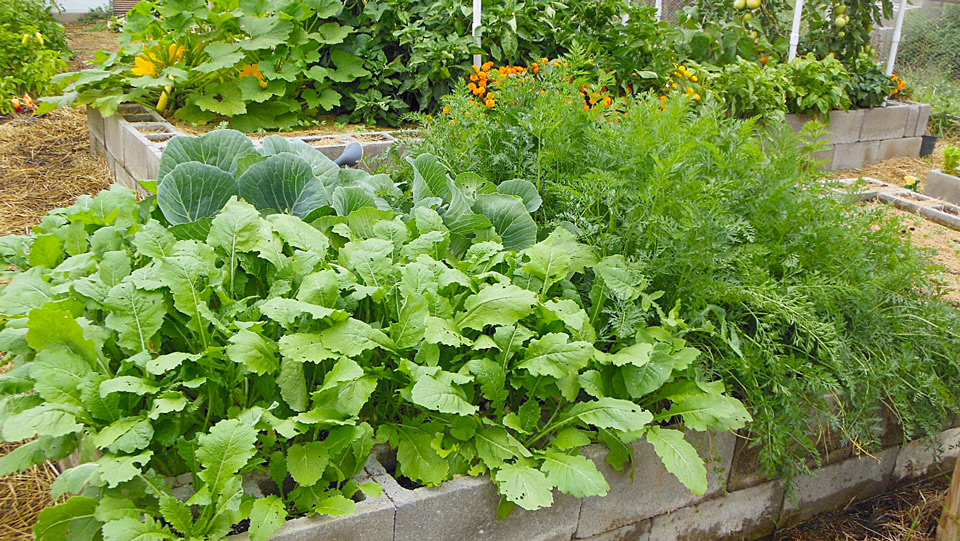 This module has the added bonus support document, The Cinder Block Unit Set Up Guide, which will walk you through the step by step process of creating your own intensive raised beds.
Module 4: What Varieties of Vegetables to Grow
I have come to realize that there are high performing plant varieties that thrive in high performance garden systems. In this module I will cover all my favorite plant varieties. There are many varieties of plants out there. And it is great to know which ones perform the best in an Abundance Garden. Included in this module is the bonus seed and plant shopping list – taking the guess work out of what to buy for your first season.
Module 5: When to Plant What
The time you start your garden is another key to your gardens success. I will teach you the information I use to know when to get started in the spring and when to finish my crops in the fall. Knowing when and what you can plant is critical to your success. This module comes with the bonus support document, the Zone Planting Guides. This comprehensive guide will show you when to plant what, for your specific region. This guide tells you by your zone when is the best time to plant each vegetable. It covers 33 different varieties of vegetables
Module 6: Planning the Garden
Together we will fill out a chart that once it is completed it will give you the road map to your whole gardening season. My farm uses the same chart and I know exactly what I am growing and can full fill my orders all season. You will learn how big you should build your garden the amount of space each plant requires and how many of each plant to grow.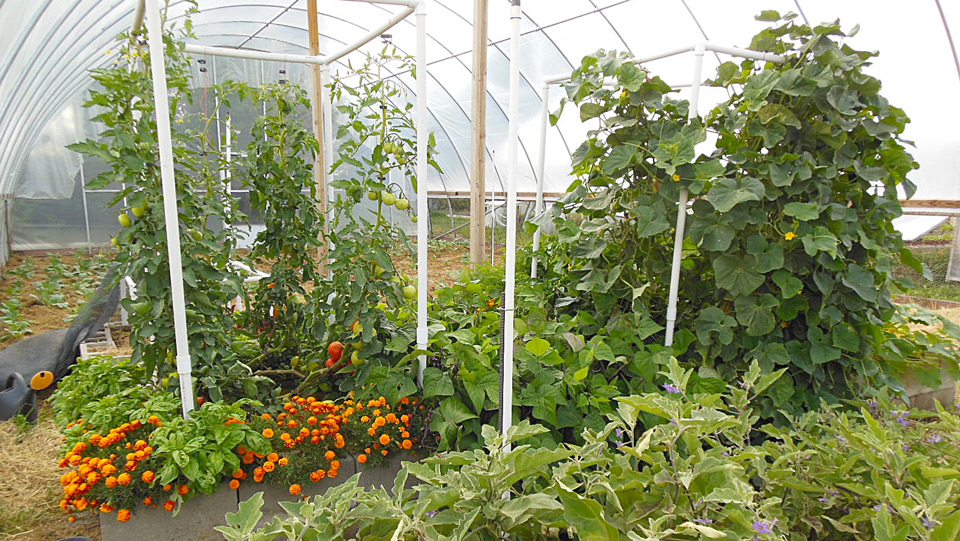 This module has 5 bonus support documents designed to help you plan the high performance garden of your dreams:
Plant Reference Guide: this guide will be your go to document for specific details on 33 types of plant and how they fit into an Abundance Garden.
Plant Estimate Guide for the Abundance Garden: this guide will help you to figure out how many of each plant to grow.
The Quick Reference Guide: this is a one page chart that will give you the details to plan your garden in a glance.
Abundance Garden Planning Chart Worksheet: this is your roadmap to a well planned garden.
Planning the Season: this is a calendar journal to plan your feedings, harvest and succession planting, end of season, and your weekly maintenance for your garden.
Module 7: Tools and Fertilizer
In the Abundance Garden we use unique tools and organic fertilizers. You will learn the 17 basic elements a plant needs; and how to feed your plants with organic fertilizers, crop rotation and compost. No more rototilling or hoeing in your garden after you have watched this Module. All of this as well as the bonus video: How to make compost tea and how to make compost.
Module 8: Plant Protection
Plant protection is crucial to the health of our plants. The Abundance Garden plant protection techniques you will learn will teach you how to protect your plants from the elements, what are the best materials to protect them and trellising. I use all these techniques to grow produce year round in the mountains of Colorado.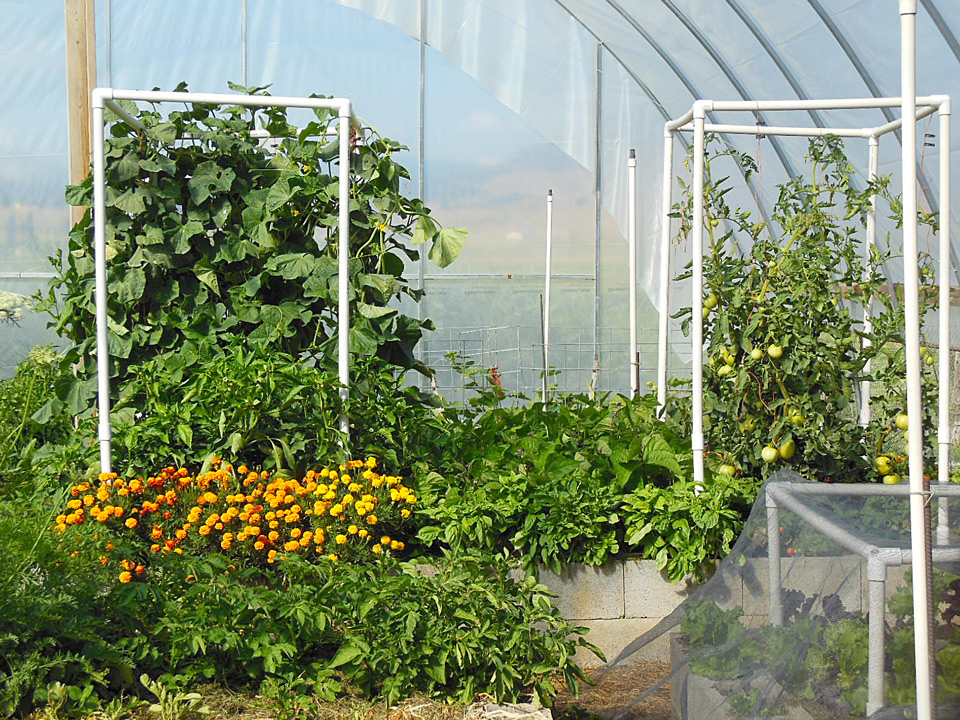 The bonus support document and video are the instructions to The Abundance Garden Easy Trellis. These bonuses will teach you how to build a trellis without any tools.
Module 9: Watering
There is an art and science to watering your garden. Ever wonder if your plants need water? Are they to dry to wet? It is crucial to success in any garden to know when to water and how to water in a way that your soil will be able to retain the most water. In this module you will learn how to properly water your high performance garden.
Module 10: Putting the Garden to Bed
At the end of the season it is important to put the garden to bed. This module is about what to do with the garden at the end of the season. You will learn how to reduce infestations and diseases, how to keep your garden weed free and maintaining your soil web over the winter.
Next: You Get the Vegetable Journey
The Vegetable Journey is 33 weekly episodes where you and I garden together in the Abundance Demonstration Garden. We will grow 12 different vegetables from sowing to harvest. Then we will put the garden to bed together at the end of the season. I will be alongside you every step of the way reiterating the basics of the high performance garden. You will not be able to find any other course that demonstrates gardening personally for you week by week. I will be your garden coach every step of the way.
And Finally…
You also have access to me via email. Send your questions so I can personally help you with your gardening challenges. You get this support for as long as you are enrolled in the Abundance Garden Course.
You will also have support in our community portal from your fellow gardeners. The Abundance Garden Course is a community where you can share your successes, ask questions and learn how to garden organically.
This course is easy to access on line – everything is there for you. This method of gardening is so easy to do – the system is set up to take the hard work out of gardening. You can begin a lifetime of easy and successful gardening and become a part of a one of a kind gardening support community today. One of the advantages about this online course is that we can continually update it. The Abundance Garden Course will always be updated with new discoveries and support documents. You will have access to the latest and greatest material.
How Much Is A High Performance Garden System Worth To You?
If you were to take a college course for professional organic farming, it will typically cost you about $18,700. Most of these college courses will still only teach you the traditional, low performance system.
If you were to hire a professional horticulturist to coach you privately through one growing season it would cost $3000- $5000. This private coaching would most likely be the low performance gardening, because this is what they know.
There are some weekend workshops you can attend to learn successful gardening tips and techniques. They can be good and informative. But they typically lack the depth of information and support needed to help you upgrade your garden in one season. These courses run from $350-$450 for 6-12 hours of teaching.
The Abundance Garden Course has 48+ hours of video training, articles, website support, and personal support.
How would you like to lower your grocery bill while eating better quality food? In the Abundance High Performance Demonstration Garden we saved $2560 in grocery costs in our first season. Imagine what you can accomplish with just that first year of savings. What about over ten years? $25,600 is a lot of savings.
That amount doesn't include the savings you receive from having good health from eating your own healthy organic produce.
You can teach your children the good habits of how to garden, and how to successfully garden with the high performance method. The benefits of health and savings go on for generations.
Each of the 10 video modules is a specific high performance gardening workshop, and would cost as much as $100-$150 each. That is a package price of around $1500.
The Vegetable Journey is offered nowhere else and its closest equivalent would be hiring a horticulturist for a season for upwards of $3000. That means that the value of the course would be $4500, and that doesn't include the added bonus materials, the community forums, the Q&A and email support.
You cannot put a price tag on the movement of growing your own food.
Imagine what this world would look like if everyone had an Abundance Garden. If everyone grew at least 1/4 of their own food in their backyard the benefits would be astronomical. The benefits would start with individual health creating peace of mind, and expand into a better world.
You will no longer be dependent on others to provide you the basic life necessity of food. Our food will no longer be transported across the globe; which would diminish our carbon footprint and take care of our planet. You are healthier, more active and have the knowledge to pass this skill on to the next generation.
What would you give to have that kind of future for yourself and the next generations? I love this information so much, and know the difference it can make for people.
I want to make the Abundance Garden Course as affordable as possible so that anyone can choose to learn High Performance Abundance Gardening. The course is easily worth $4500. That is still nowhere near the cost of a college course. It was suggested that a good bundled price was around $2500 which is less than the amount of potential grocery savings in the first year.
What I've decided to do is to make the program as affordable as possible. That is why I am making the entire Abundance Garden Course available for only $299. As a part of our educational outreach we have created The Living Farm's Spring Sale. We want to help you have the high performance garden of your dreams this season.
I am so sure that this Course will teach you everything you need that I guarantee your money back within 30 days of your purchase. If you are not satisfied with the material you received within 30 days of purchasing I will refund the entire $299 to you.
If you need to make it more affordable you and your friends can split the costs and become high performance gardeners together.
Today is the day to begin learning the high performance garden system. Don't wait and have another low performance season. The time to begin planting is now and our spring sale price of $299 won't last forever!
Enroll today in the Abundance Garden Course and begin your journey. Share the Abundance Garden Course with your friends and family so they can take advantage of this amazing low price while it lasts.
Now the choice is up to you whether you will continue in the low performance garden system or if you will make the transition to the high performance gardening system. Enroll now to get the value of a $4500 Abundance Garden Course for just $299. I look forward to getting to know you and helping you achieve the high performance garden that you have dreamed about!
At The Living Farm we are all about empowering anyone to be able to garden their own nutrient dense organic foods. All of my 27 years as an Organic Farmer have been spent refining this system so that anyone can garden with great results. I look forward to helping you begin your Abundance Garden.