What To Bring
A common question about the program is what the students need to bring.
The first thing on the list is definitely shoes and clothing in general. Remember that we are on a farm so your clothing will get dirty and worn out very quickly. If you would like nice clothes and shoes to go out in, make sure to bring plenty of others that can get covered in mud, dirt and animal poop. You will want at least two pairs of shoes, I would suggest three. One for the greenhouses, one for the barns (boots, you might prefer if they are rubber), and one for time off the farm.
Work gloves are a definite plus as is a pocket knife. We also ask that you bring a pair of office scissors for harvesting greens. Even though some of you will just be here in the summer it would be smart to bring some warm clothes: it is still chilly at six in the morning in July.
It can be very bright out here also, so bring a hat.
You will need to supply all of your toiletries.
The schoolhouse has WiFi so if you have a computer you might as well bring it to stay in touch with your family and friends and brag about all the cool stuff that you are doing. A camera is always a plus as well as an ipod for long term weeding.
Besides that just a willingness to work and throw around a couple of high fives.
Daily Life Of A Student
On an average day here on the Living Farm we wake up shortly before the sun peaks up over the mountain. We get dressed quietly and make our way to the kitchen for some coffee, cereal and eggs. Soon enough we all pile into the truck and roll on down the road to start our work for the day.
The animals are ready for breakfast by the time we arrive. Two of us concentrate on milking either the sheep and/or the cow, depending on the time of year, while the rest of us feed the animals and prepare for picking. We spend most of the morning picking vegetables, mostly lettuce and other greens, but also tomatoes, cucumbers squash and a variety of other tasty treats.
Around 12:30 we will break for lunch. This is a great time to try out the bounty that we have just harvested.
After lunch we involve ourselves in various tasks on the land, from changing out beds, corralling sheep, building fences, transplanting, and many, many other fun and challenging endeavors. Before heading back to the house for the evening we collect eggs, check on the sheep and make sure the greenhouses are in order. After we get home we spend an hour or so relaxing and then get started cooking dinner.
Around seven a few of us go back to the farm and spend time with the lambs to make sure they are well accustom to humans, it is much easier to have the sheep follow you then to chase them around. After our lamb time we have dinner, clean up and relax on the couch to read, or converse. Soon enough it is time for bed to prepare for another day of rewarding work out in the Colorado sun.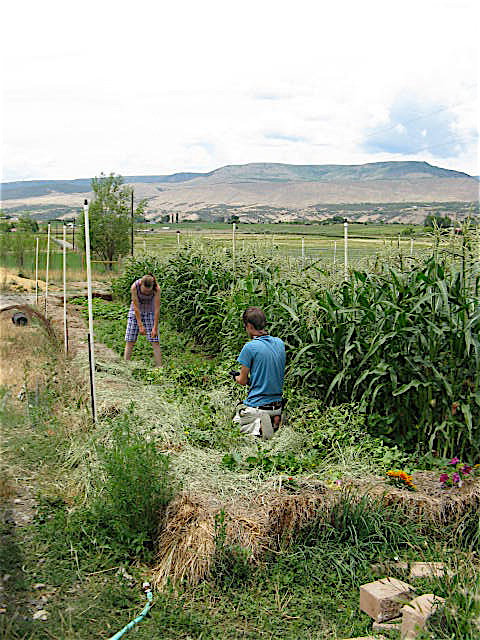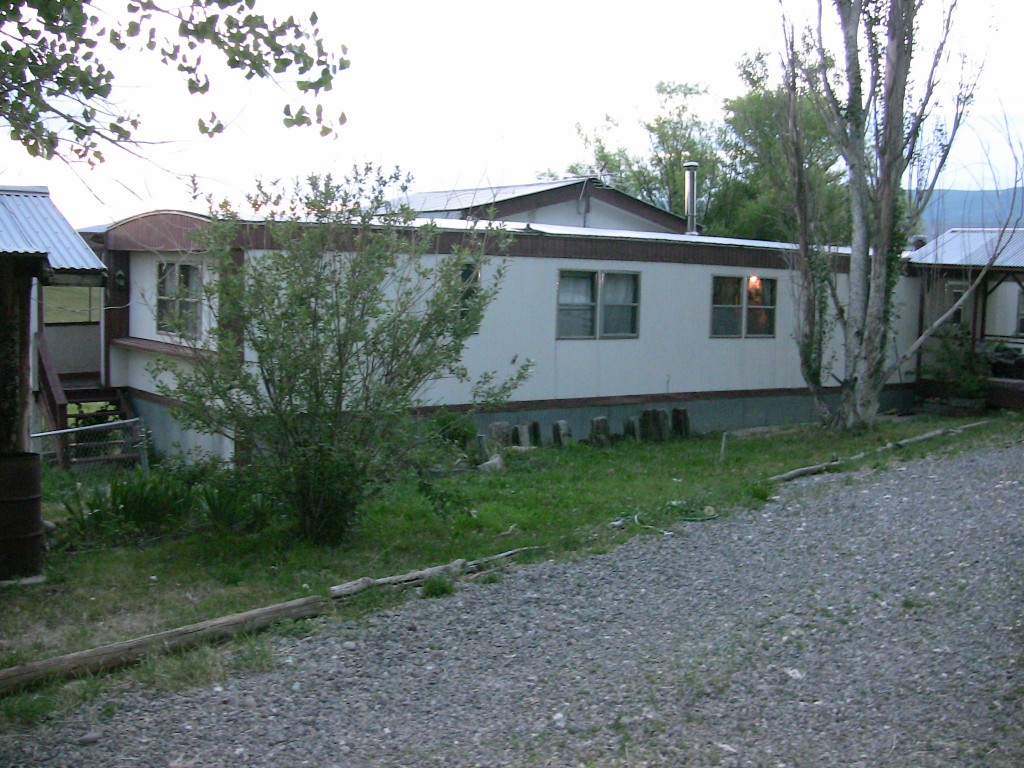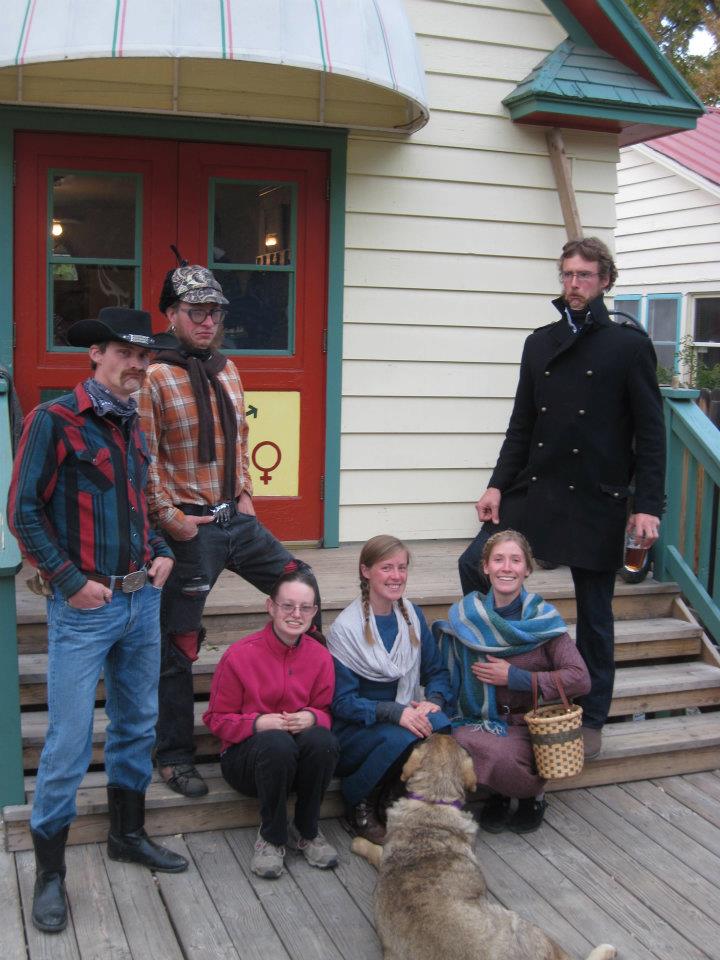 Why Am I Here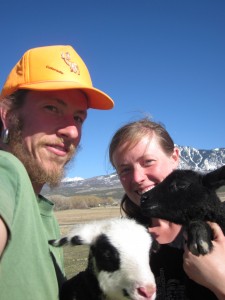 After college I started working at a brewery, both because I had an appreciation for different types of beer but also because I enjoyed manual labor, and simply because I needed a job. Although both the job and my co-workers were fun and interesting I started to become disenfranchised with the company and by the lifestyle I found myself settling into. All of my free time was taken up by drinking, playing music and goofing off with my friends, and while this was satisfying at the time I quickly began to worry that my life would end up being a shallow vestige of laughs and parties long gone by.
Over the next year I actively tried to find a way to have a more substantial place in this world, that was both less harmful to the planet and myself. The first place I turned was to Germany, I had received my degree in the German language. I spent three months WOOFing on a small community in northern Germany, living a truly simple and rural life. While in deep thought on a dyke facing the North Sea I came up with two self truths that would guide my future. The first is that I no longer wanted to work for anyone, but also didn't want anyone to work for me, I wanted to work with people. The brewery had been a striking example of how unjust a hierarchical system can be. The other is that I wanted to make sure that my actions had as small a negative impact on the plant and the impoverished peoples of this world as possible.
After much thought on these truths and the fact that I enjoy physical labor and the outdoors one solution became clear, to become a small scale organic farmer. After looking into different farms around Colorado upon which I could learn, I choose The Living Farm, because they are the only farm that provides a long term, multi-faceted small farm education. When I finish with my time here I will be able to found a life that is both substantiative and consciences. I am constantly grateful that I was given the opportunity to blossom in this way.
Benjamin Bryce-Capron
Paonia And Surrounding Area
Paonia is an interesting, multifaceted town. While retaining its small town charm and feel Paonia has slowly become a mecca of micro, organic, and local farming as well as a bastion for those looking to have a stronger connection with the land, an escape from the metropolis. The North Fork valley, in which Paonia lies, boasts the largest concentration of organic farm in Colorado. During the summer a string of well known bluegrass and country musicians pass through performing at a number of small venues in our two block downtown strip. With that said the true soul of this area is not found in town but in the mountains and wilderness. The Black Canyon of the Gunnison, a thirty min. drive from the farm, is simply breath taking. The canyon is 2,700 feet deep and the sides are so steep that the sun only hit the bottom for an hour a day. The town and farm are surrounded by wilderness areas and public lands, leaving enough ground for a lifetime of exploration.