Felted Wool Mittens & Scarves
Toasty warm felted wool mittens and scarves.
These felted wool mittens and scarves are the key to warming you and your family's hearts this holiday season. The felted mittens and scarves insulate and reflect your warmth back to you without being compromised by the elements like cotton and polyesters can. On the farm, these mittens and scarves are well loved for those cold winter mornings.
Currently, the farm is only shipping to the main 48 states.
Felted Wool Mittens
The ultimate stocking stuffer! These mittens are the cure for your cold hands in the winter. The felted mittens insulate your hands and capture your warmth and keep it around your hands. Once you wear the felted mitten it will be hard to go back to synthetic mittens or gloves. On the farm, they are well loved for those cold winter mornings of shoveling snow and pitching ice out of the stock water tanks for the cows. We have specialty sizes ranging from infant to a large mens size, so there will be a pair of mittens for everyone! You can start shopping by clicking the button below. I'm sure there are a lot of hands that are in need of some toasty warmth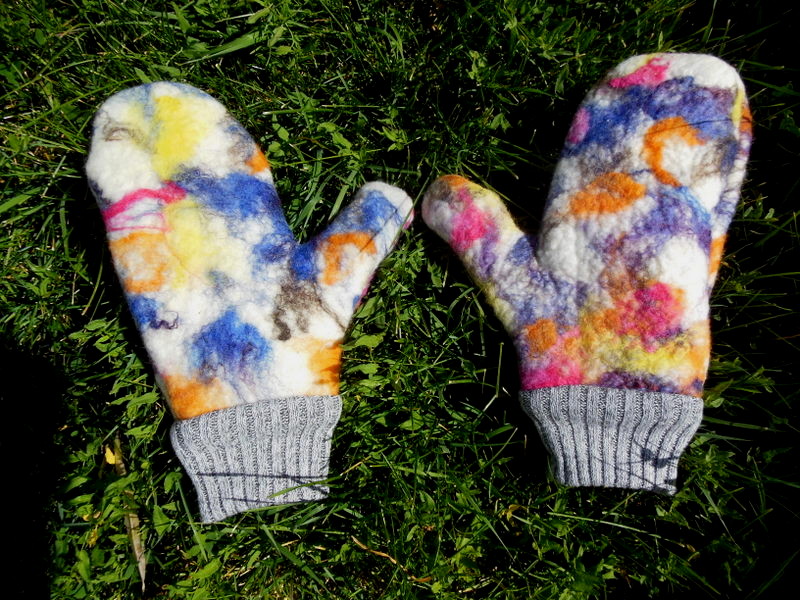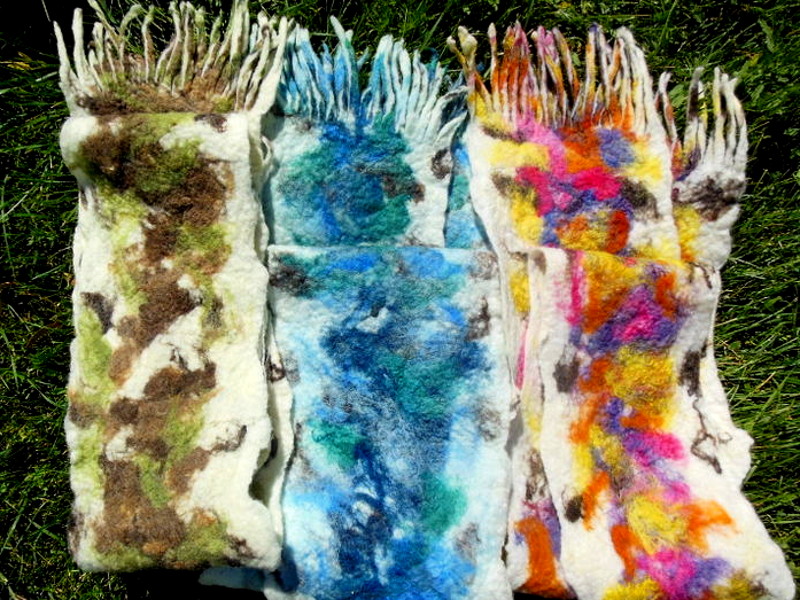 Felted Wool Scarves
The wonders of wool never seem to end! These wool scarves are designed to warm your neck and nose on those blustery days, while matching your mittens! One of the benefits of using wool for those cold outdoor adventures is that unlike cotton, the warming capability of wool is not compromised by water. These fashionable and utilitarian scarves are exactly what you need to complete your warm and cozy outfit this winter.
What makes our felted wool mittens and scarves so special?
There are many reasons that why the farms felted wool mittens are the best you will find. Some of those reasons are –
Best Handmade Quality for the Price
We understand that the holidays can be expensive, so we make sure to sell each of our products at the most competitive price possible. Handmade and artisanal products don't have to cost more because of their quality. Shop the best prices with us!
Free of Bleaches and NonOrganic Chemicals
Many who suffer allergies and chemical sensitivities can find a haven with our wool products. Each of these mittens is made simply with quality ingredients, no harsh chemicals are used with the felting process that could linger and irritate the skin!
Support Small Sustainable Farming
With every purchase, you ensure a future for small-scale organic farming that values the highest quality of life for livestock and people. Unlike the big box stores, every product we sell directly impacts one of our people flocks family.
Understanding RUnderstanding Return Policy
Our mission is to give you the best of the best. If there is a defect in the product, we will work on making things right through either a refund or a replacement as quickly as possible. Your comfort is our passion. If you are in need of a return, please contact us at thelivingfarm1938 (at) gmail (dot) com.
Each Product Made to Order
Each of the wool products are handmade specifically for your order. So, once your order has been processed we will email you an estimate on the shipping date. This attention to detail allows us to craft each piece of art for your specific needs!
Shipping to the Main 48 States
Because we are a small independent company. We are only offering shipping to the main 48 states. If you make a purchase with an address for out of the country, you will be refunded.
So, what are you waiting for? Are you ready to start shopping? Click the button below to get started.
Until then, have an excellent day!
Lynn