Bring a piece of the farm to your home.
These rustic utilitarian gifts add a touch of country charm that only a handmade product can give. Enjoy the willow stool, felted wool table runners and placemats, assorted woven rugs, backside warmers, and so much more right from the farm. Each of these gifts are for your practical friends and family members, those who would love to add something beautiful (and useful) to their nest. Keep scrolling to learn more about the household good products, or start shopping by clicking the button below.
Willow Stools
Unique rustic charm that fits into any room of the house, the living farm's dancing willow stools make a wonderful gift for the holidays! These stools are great for putting on your shoes or for getting things out of the high cabinets. Each of these short stools is made with the farm's unique dancing willow wood, the seat cushion is covered with our trademark wool patterns. If the natural warming properties of the wool cover aren't quite right for your use choose the fabric option created for those of you who want your stools to take part in your outdoor adventures.
These willow stools use a tree line that Lynn's father started. These trees were sold across the country for years. They are one of the fastest growing trees in the world. Our dream of bending willow furniture over the years has become a reality with these stools.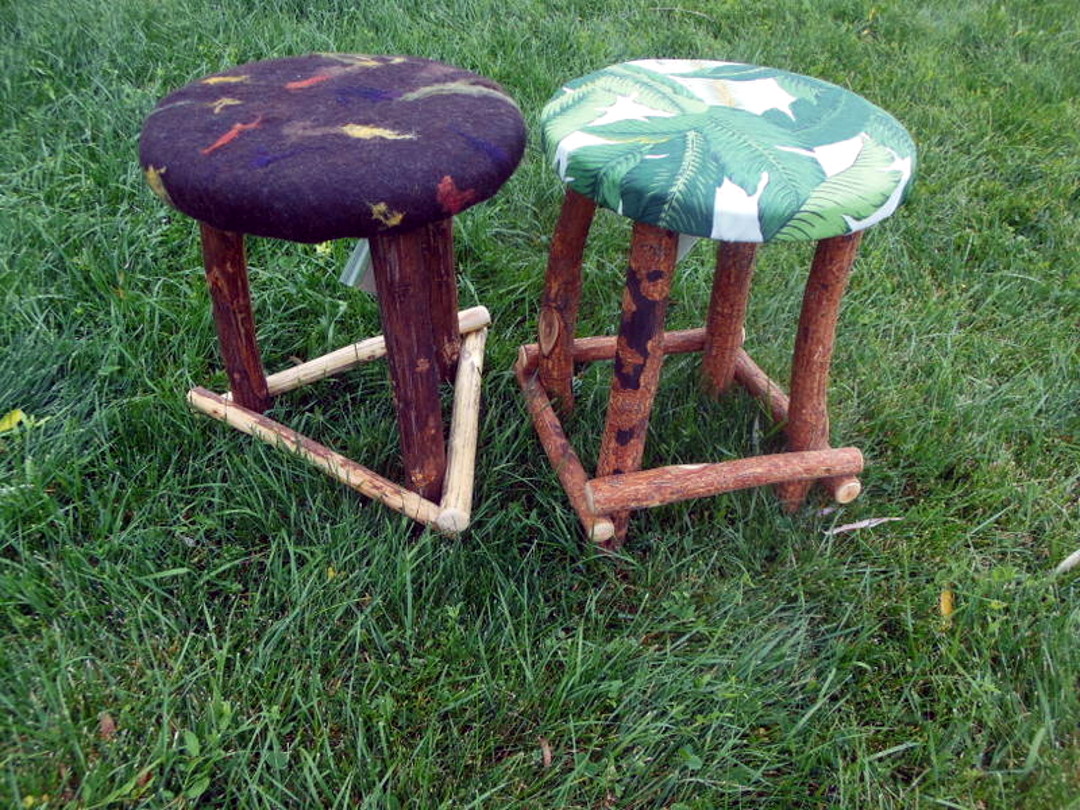 Backside Warmers
If you have ever warmed your hands by a campfire, you know the age old dilemma, toasty front and freezing backside. It is time to say goodbye to the constant fireside rotation. Place the wool backside warmer in your camping chair and enjoy a warm tush. The wool traps your heat and reflects it back to you, the best way to describe the feeling is like having an electric blanket in low in your chair. Back side warmers are not only great for camping chairs you can use them in your car seat, at your desk at work or on the couch. Soothe a sore back, warm a tush, or just make a seat more cozy with these one of a kind backside warmers.
What Makes Shopping for Household Goods from the Living Farm Different?
There are many excellent reasons for why shopping with us is the best for you! Some of those reasons are –
Best Handmade Quality for the Price
We understand that the holidays can be expensive, so we make sure to sell each of our products at the most competitive price possible. Handmade and artisanal products don't have to cost more because of their quality. Shop the best prices with us!
Free of Bleaches and NonOrganic Chemicals
Many who suffer allergies and chemical sensitivities can find a haven with our products. Each of these products is made simply with quality ingredients, no unnecessary additional ingredients necessary!
Support Small Sustainable Farming
With every purchase, you ensure a future for small-scale organic farming that values the highest quality of life for livestock and people. Unlike the big box stores, every product we sell directly impacts one of our people flocks family.
Understanding Return Policy
Our mission is to give you the best of the best. If there is a defect in the product, we will work on making things right through either a refund or a replacement as quickly as possible. Your comfort is our passion. If you are in need of a return, please contact us at thelivingfarm1938 (at) gmail (dot) com.
Each Product Made to Order
Each of the wool products are handmade specifically for your order. So, once your order has been processed we will email you an estimate on the shipping date. This attention to detail allows us to craft each piece of art for your specific needs!
Only Shipping to the United States
These products are only available in the United States and must be shipped to a U.S. address. If you make a purchase with an address for out of the country, you will be refunded.
So, what are you waiting for? Are you ready to start shopping? Click the button below to get started.
Until then, we all wish you happy holidays from the farm's people flock!
Lynn