Growing a kids' garden is a way to start educating your child on their health when they are young and it's fun! Veggies will be easier to eat and taste better when they grow them themselves. Start an appreciation for gardening and keep them busy when summer rolls around. A kids' gardening project will keep them entertained and interested for a long time.
When considering growing a kids' garden you will first need to find a good growing plan. Visit the library, or search online for a plan that is easy, doable, and enjoyable. As you and your child plan the garden, keep in mind your growing zone. Knowing this key information will help you to know what to plant and when to plant, according to the length of your growing season. Find your growing zone and plan accordingly with How to Plan Your Garden According to Your Region article. Once you have an idea of what you can grow and when to start, sit down with your kids and look at what they might want to grow.
To make it easy, I've included a list of some of the easiest (and most kid friendly) vegetables to grow, as well as some garden plans geared towards kids. Try these on for size!
The best vegetables to grow in a child's garden are:
Tomatoes
Cucumbers
Lettuce
Green beans
Kale
Swiss chard (we like rainbow chard!)
Zucchini squash
Summer squash
Butternut squash
Pumpkin
When looking at these gardening plans it is very important that your child has ownership of the project. This is their garden. Involve them in all of the planning and in the garden chores. It will make a garden victory that much more exciting when they have earned it themselves. To make sure that they don't feel overwhelmed by the garden, keep it to 4 feet by 8 feet. This is big enough to grow 5 different plants but not so big that they grow tired taking care of it.
Kids' Garden Plan #1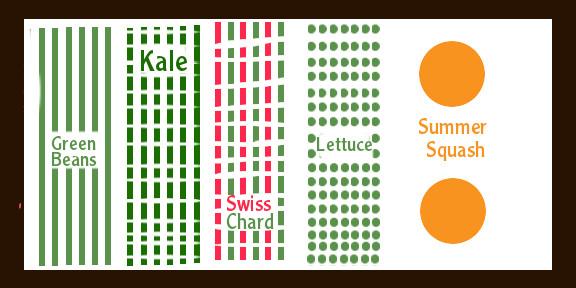 In this garden plan the greens are the main focus. This is a very forgiving first garden plan. For the summer squash you can easily swap out for winter squash varieties if your growing season will allow it.
Kids' Garden Plan #2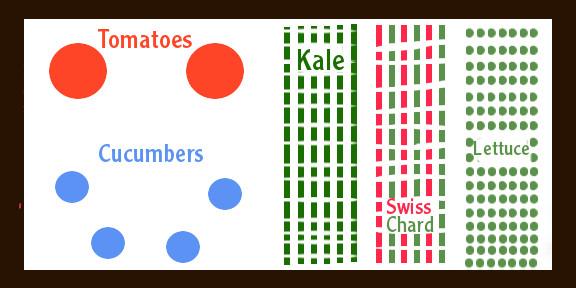 It's a smiley face garden! To get the best results from your tomatoes and cucumbers, we would recommend building an easy trellis. Our no tools instructions are easy to put up and will give you excellent yields.
Kids' Garden Plan #3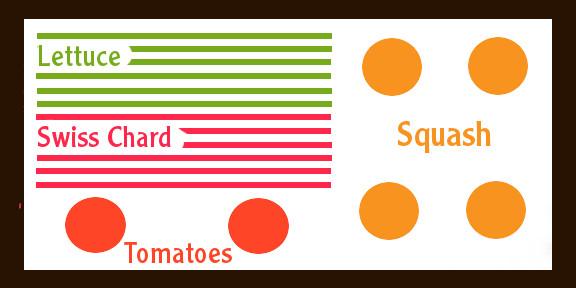 This basic garden plan is great for a kids' garden plan. There are lots of colored vegetables that are sure to inspire them to eat their veggies.
Now that you have an idea of a plan, I want you to know the most critical step in developing your child's garden. It's finding an easy, fun and successful growing system.
You need a system that is productive and takes little effort. There are gardening systems that are easy and gardening systems that are hard. You want to get your kids into the easy gardening system. I start all my kids in a High Performance Garden System. This system is easy for parents who don't have any gardening skills, either. This is a container garden system that starts with the perfect soil for vegetable plants; it is organic, weed free and requires no rototiller.
To develop a High Performance Garden you will need just a little education. It took me decades to learn how to grow in a High Performance Garden System. I want to make learning easy and fast. I would love to invite you to the Abundance Garden Course; this online video course is the perfect tool for building a successful kid garden and a garden for the entire family.
In this video course get all of the support and education you need to have a successful garden. Learn more about what you get in the Abundance Garden Course in the video below or read more about it.
Another available resource is the High Performance Garden Show, which can be watched online, for free, any time. There are many tips and secrets that can be applied in your kids' garden.
There are small decisions that we make every day that don't affect the rest of our lives and then there are the big decisions that can affect the rest of our lives. Learning to grow a garden can be a big decision that can affect the rest of your child's life. Learning to eat vegetables, grow something and being able to feed your family are all lifelong skills that can change the course of a life. Maybe it is time for you and your kids to get out in the dirt.