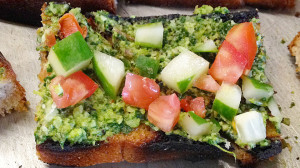 Kale Pesto
2014-10-07 23:31:02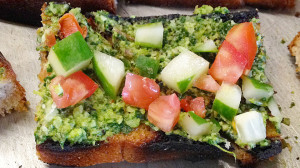 Ingredients
1/2 lb kale
1/2 lb walnuts
6 cloves garlic
1/4 cup lemon juice
1/2 cup olive oil
1/2 cup vegetable oil
2t salt
1t pepper
Loaf or favorite Bread
1/4 cup Tomato, Diced
1/4 cup Cucumber, Diced
Instructions
Puree walnuts, garlic, lemon juice, olive oil, vegetable oil, salt and pepper in the food processor. Add Kale to the walnut mixture and puree again.
Slice Bread 1/2" brush with olive oil, salt, and pepper. Grill until lightly toasted on both sides.
Spread Pesto over the bread, add diced tomato and cucumber over the pesto.
Adapted from The Living Farm Café
THE LIVING FARM http://thelivingfarm.org/