The Wonders of Sheep Milk
Here on the Living Farm we raise East Frisian dairy sheep. Our sheep are pasture run on our organic natural pastures. In the winter they are fed hay that was grown on our farm. We raise our sheep with love and kindness. All animals are pet, hugged daily, and even kissed on occasion. Our dairy herd training starts the day after they are born. Newborn lambs are held and cuddled to get them use to human contact. Every night we sit in the lamb pen and hold the babies. Our ewes are milked once a day, allowing the lambs to still feed naturally and to run with their mother' all day long. We let the babies naturally wean themselves in the fall of the year. Our dairy herd runs on 10 acres of pasture enjoying the grass, fresh air, and clean water. We do not use antibiotics or hormones.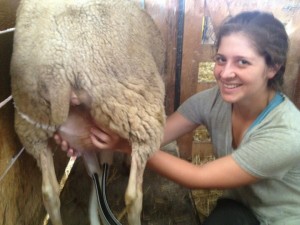 Sheep milk has a third more protein, fats, vitamins and minerals than any other milk. It is the closest to human milk and is the least allergic milk beating out cow and goat. The flavor is like sweet cow milk. Having a high butter fat content, we can make sheep milk ice cream with out adding any excess cream. Because of its high milk solids and protein it makes thick scrumptious yogurt and incredible cheese. Sheep have been milked in Europe for thousands of years. The first dairy sheep came to America around 1985.
Breed stock
We have ewes and ram for sale in the spring, to get on the list to hear about the available sheep, please email us at thelivingfarm1938 (at) gmail (dot) com.
Meat
Lamb packages are available through our Farm Market located at The Living Farm Café. Or you can order a whole lamb spring and fall.
Wool
We sell raw fleece, roving, yarn and wool rugs at our Market at The Living Farm Café located at 120 Grand Ave. in Paonia.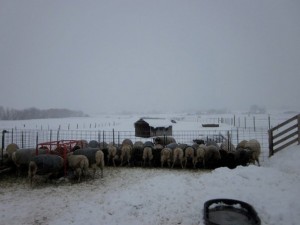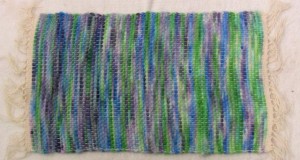 Handmade wool rug from our ewes fleece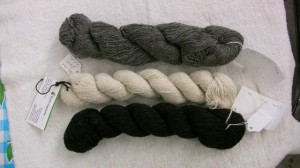 Natural yarn from our sheep's fleece